SES Report Service & Report Screen
"Keeping it brief because it's going to change."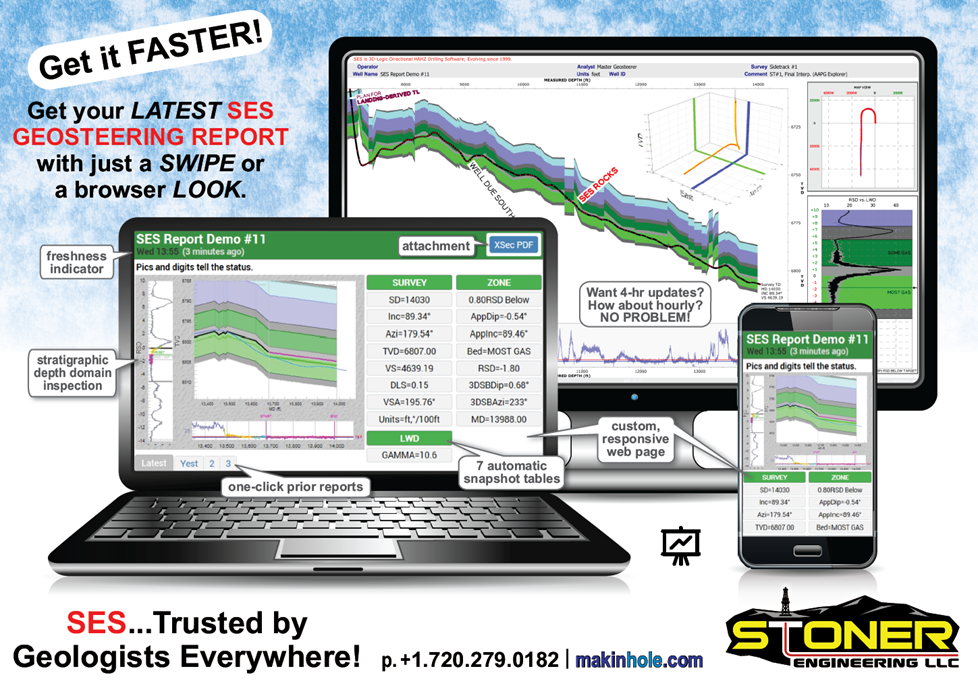 SES Report Service
SES Report Service is provided as an exclusive, unobtrusive, output display platform of Stoner Engineering Software ("SES") by Stoner Engineering LLC ("we"). An active SES Licensee controls the content of what's seen and where the report can be viewed online. By using SES Report Service (https://ses.report/, the "Site") you agree to the Terms of Use (Last Updated June 23, 2018). If you do not agree you may not use the Site.
Report Service usage is measured in broadcast well-days. A broadcast well-day is a unique date when data for a well are sent to the service by a report creator clicking "Process & Send to Queue". SES licensing includes multiple 1000s of broadcast well-days use at no-extra-charge, as published at makinhole.com.
You're in Control
You control the respective web page content such as automatic text, user text, automatic images, user images, general and/or password-protected files, the name of the web page URL, and with whom knowledge of such URL is shared ("Content"). Using SES, you can also permanently delete from the Site the created web page/URL and all prior broadcast Content of your well-Alias.
Need to track multiple wells in multiple browser windows on multiple monitors? NO PROBLEM.
Well-Alias & the Report URL
You set the Alias (which can equal the wellname) of the SES well and the Alias affects the web page URL. As shown in 'Getting Started' below, type within the Alias textbox from Report Screen to change its value and observe what it does to the URL. The Alias can also be encrypted in the URL by checking the setting. Here's what URLs could look like:
https://ses.report/abc123/SE_Demo_v5_~2_(Geosteer)/
https://ses.report/abc123/4798672ed38836915abc85930371fed1/
External to SES, you provide the URL to those permitted to view a report in a browser.
There are no report-frequency or report-consumption limits. Update and view your report at will.
Getting Started
Start by opening Report screen

from ParamTuner and then when ready, select Command 'Send Full Report' and click 'Process & Send to Queue' and give it 20 seconds to process. Copy/paste the URL into a browser or double-click the URL text in SES to automatically shell-out to a browser.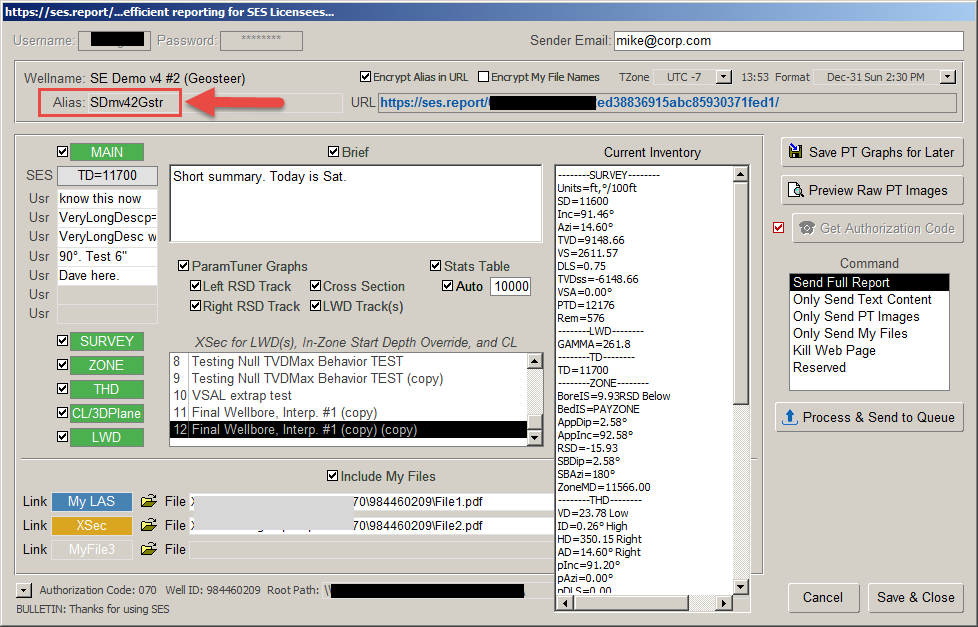 After the page is up on the Site, start tweaking Report screen settings from SES to learn how to configure the display content to your liking. General or password-protected files can also (or only) be included (e.g., PDF of a Cross-Sections screen cross section). View the report on a phone/tablet/desktop to become familiar with how different report consumers may experience Content viewing.
You control which panels and/or graphs are displayed in a report, as well as the link/button text to user files. As usual, in SES there are tooltips and status bar help when clicked on something. Content that's not ParamTuner images or user files is considered text content. Command 'Only Send Text Content' will process faster than 'Send Full Report' and will reset the report's time stamp.
Updating Reports
Report Screen

can be accessed from ParamTuner or SES screen. ParamTuner images can be saved from ParamTuner's Report Screen so the report can be submitted later, such as after a Cross-Sections screen cross section has been printed/PDF'd.
Each time a Command is sent to the Site by clicking 'Process & Send to Queue' the time stamp in the report header is updated and used to display dynamic elapsed time. Almost immediately the report viewer knows how current the report contents are.

If a report is loaded in a browser tab, it automatically-refreshes approximately hourly.
One-click Access to Prior End-of-Date Reports
Content broadcast on the same date for the same well-Alias overwrites prior Content (if any). The end-of-date report is preserved for optional subsequent viewing from controltip-dated tabs along the page bottom.

How to Delete Broadcast Content?
Send Command 'Kill Web Page' to delete a well-Alias page and ALL of its prior broadcast Content, including all tabbed history if applicable. This Command has no undo. However, this Command could be followed-up with new Commands to reestablish the report's presence (e.g. to clear tabbed history and start anew, to change the URL for the same well by using a new Alias, etc.).
How Teams Shift-Work on Same Well
When working from different computers but the same well, simply use the same Username, well-Alias, and 'Encrypt Alias in URL' setting and whoever sends last controls what is posted on the Site.
Where are the Files, locally?
Near the Report screen bottom is "Root Path:", which displays where output processing files are locally stored for each well that's processed from SES. Each sent Command will package a single zip file ("upload.zip") that is uploaded to a secure, processing portion of the Site. The SES-generated xml/text files within "upload.zip" do NOT exist at a web-accessible portion of the Site. Only the respective output/"finished product" web page ("index.html"), ParamTuner images (if any), and user files (if any) are accessible through the web server URL (to those that know the URL) and only for a temporary period of time.
SES Report Screen
There's new SES value in simply loading Report screen from ParamTuner. You can view/copy a current-TD digit snapshot of "everything possible" and auto-generate multiple current ParamTuner images in assorted sizes—locally and for internal use without ever using SES Report Service. The 'raw' digits and images can also be viewed locally in a browser and/or generated files can be accessed by your proprietary data processing systems.
Usage Potential Cost Examples
Report Service: a geosteering report for a single well is updated using the Report Service roughly once every 2 hours starting at 7:00 a.m. April 1st and concluding at 7:00 a.m. April 4th. This scenario registers 4 broadcast well-days of Report Service usage.
Report Screen: the Report screen is opened and data are accessed and/or saved locally three times per day every day of the year for 50 wells per day. This scenario registers 0 broadcast well-days of Report Service usage because "Process & Send to Queue" was not once clicked.
Cost & Pricing. SES licensing includes 1000s of broadcast well-days of use for no extra charge. Please see SES Licensing online for full details.
Server on Island, by Design
The Site is hosted on a security-hardened Linux server at linode.com. It has a robust firewall and "enterprise-level" user policies. It lives in a physically-secured datacenter where it can't be stolen or accessed via physical means. Only our systems, directly or through SES, control source data movement to and within the Site. Our business data are not stored on the Site or on any other server at linode.com. Both the location and architecture of the Site were designed with your data security and utmost total privacy in mind for the purpose of use.
The usr/pwd we provide to you to broadcast on the Site does NOT permit direct login access to the server.
More Secure than Most Email
More often than realized, only the first and last 'hops' of email are encrypted...server to server data transmission goes unencrypted on port 25. However, the entirety of the Site has no internet data flow portion that isn't encrypted communications for us and for you.
Anonymous Report Viewing - No Tracking
If you login to a web site, your browsing is or can be tracked. Viewing an SES report does not require login. With only anonymous report viewing, our commitment to your total Site-use privacy is clearly extended. We do not use cookies for tracking use of the Site by users.
Monthly Service Use Report
A monthly by-SES-well broadcast-activity summary report is provided to Licensee's SES Report Service point of contact when service use exceeds 50% of the respective calendar year included-use allotment amount. Such report is sent to ensure valid use of Licensee's usr/pwd to broadcast on the Site and to address service usage invoicing when applicable.
Private, Confidential, & Temporary
We accept as little data as possible to enable the creation of accessible Content by those authorized. SES only includes "generic" engineering/geologic summary data by default. While you may add it, nowhere does SES include well meta data such as API#, UWID, lat/long, state, county, operator, service company, rig, etc. that could theoretically assist an unauthorized party to uniquely identify the locale from where Content originated.
A well-Alias's broadcast Content is available on the Site for a temporary period of time. It is permanently deleted from the Site approximately two months after the well-Alias's last broadcast date if not deleted prior by you.
You are responsible for controlling the distribution of your URLs. You are encouraged to keep Content generally nondescript for superior/defensive overall privacy under every "technically-possible" scenario and to consider using well name aliases for yet another layer of confidentiality and security assurance among participating parties.
Wrap-up
Copyright © 2018 Stoner Engineering LLC. All rights reserved.
Thanks for using SES!
Last updated 2018-08-01.